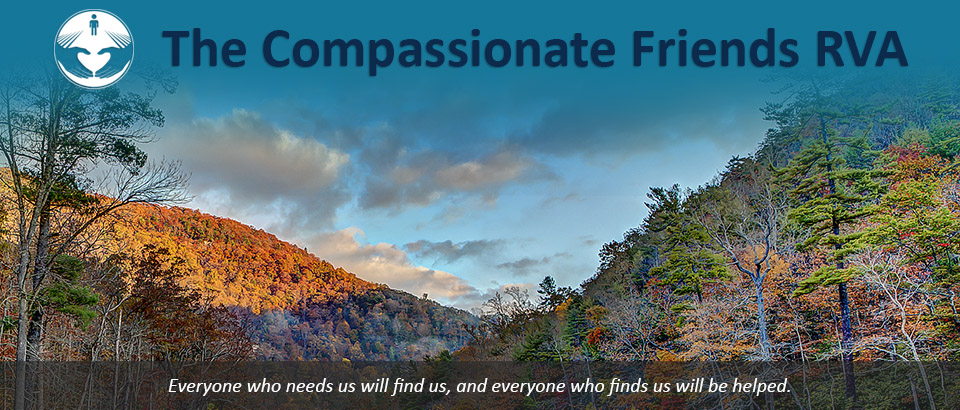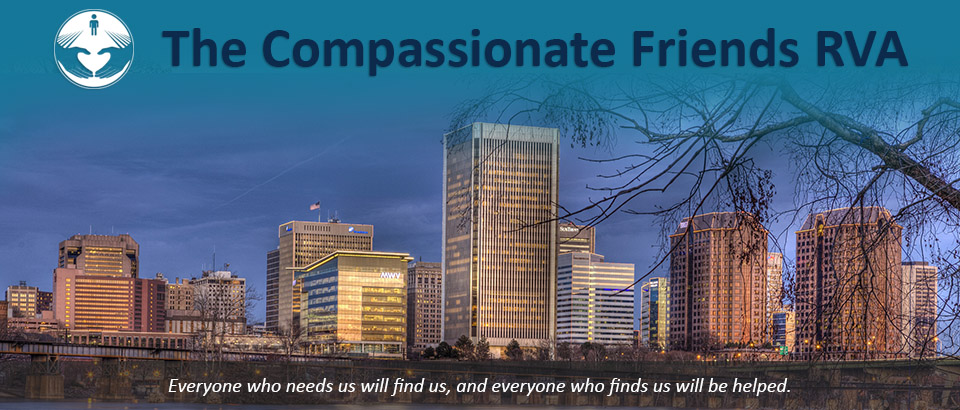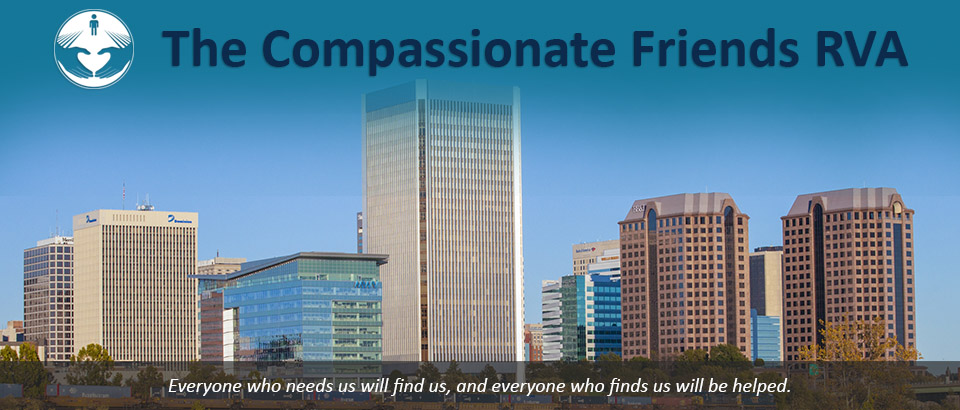 There is no charge to attend meetings, use our lending library or receive the newsletter. No one is expected to donate. The Compassionate Friends RVA is self-supporting through Love Gifts made in memory of a child, monetary donations made directly to the chapter or through the United Way, gifts-in-kind, and fundraising. Occasionally we receive donations from organizations or businesses in the RVA community. We are a tax exempt 501(c)3 non-profit organization and donations are tax deductible.

These donations enable us to be here for the families that need us.

Chapter funds are used for:

Welcome Packets for new members

Chapter phone

Website and community outreach

Purchasing TCF brochures and printing of other materials

Candle Lighting service expenses

Lending library

Expenses for the Walk to Remember

Annual dues to TCF national

Training for chapter leadership, including conference attendance

Our chapter is run by volunteers and we are always looking for people to help out with the various functions and events. If you have an interest, please reach out to the chapter co-leaders or to any member of the Steering Committee. Volunteering to help does not mean you have to make a long-term commitment. You can volunteer to help with just one event.

To make a donation by mail

Please make your check payable to The Compassionate Friends Chapter #1422 and mail it to: 1119 Worsham Green Terrace, Midlothian, VA 23114.

There are also a couple of ways to support the chapter that will not cost you anything!

Do You Shop On Amazon? Click here

If you do, please make your Amazon purchases through Amazon Smile. Click here to start your purchase at Amazon Smile page or go on smile.amazon.com and select The Compassionate Friends Chapter #1422 as your charity. Search for it in the search bar and then select us. Be sure to bookmark our Amazon Smile page and use it every time you shop on Amazon!

Do you shop at Kroger? We are in Kroger's Community Rewards program and when you link your Kroger Plus card to our chapter, Kroger will donate a percentage of what you spend. You will need to enroll your card and select The Compassionate Friends #1422 or enter our non-profit (NPO) number of 85627. Please pass this along to your friends and family! Thanks in advance

☺

Pick up a free Kroger Plus card at any Kroger service desk

Click on Sign In / Register

Sign up by inputting your zip code or clicking on your favorite Kroger store

Once verified, click on My Account

Click on Edit Kroger Community Rewards

Enter our non-profit number of

85627

or The Compassionate Friends #1422

Amazon and Kroger will send our chapter a small percentage of your purchases - and it doesn't cost you anything!
---
"The world breaks everyone and afterwards many are stronger at the broken places."
- Ernest Hemmingway
---
Thanks for your support!
In 2015 and 2016

, the following individuals, families and organizations have supported our chapter with Love Gifts, monetary donations or donations-in-kind:
Bank of America Giving Campaign
Carol and Steve Szuchy, in memory of son Mike Szuchy
Carolyn and Rick Perrin, in memory of daughter Lindsey Perrin Crider
Darcie Kuzik, in memory of son Jordan Kuzik
Donald King, in memory of son Ed King
Gwen West, in memory of son Matthew (Slim) West
James River Lions Club
Karen Gill Counseling
Kathy and Chuck Collins, in memory of daughter Tiffanie Collins
Linda Tebault, in memory of daughter Danielle Tebault
Ronda Collins, in memory of daughter Shannon Denise Mitchell
Ruth Booker, in memory of son Chris Booker
Sally and David Cramer, in memory of son Walter R. Cramer
Vanessa Haislip, in memory of daughter Melissa Haislip
Wanda Moser, in memory of son Kevin Lanna
Special thanks to Harold Lanna of Lanna Photography for the use of the photos

on this website, in memory of his son, Kevin Lanna.